Quick Ship
Quick ship items are items that we either have in stock or can have built or finished and packaged quick enough to have them shipped from our warehouse within 10 days. This does not necessarily mean you will have your order at your doorstep within 10 days. After the package leaves our warehouse it could take up to 6 business days depending which state you live in. Below shows a map of the time in transit after the package leaves our warehouse:
General Shipping Information
When placing an order, you may choose one of four ways to receive your furniture (options may be limited by size/weight of furniture).
Your order can be picked up in-store at our Intercourse, PA, and Strasburg, PA locations.
If you live along the East Coast your order could be delivered by common carrier to your home .
Your order could be packed and shipped via UPS or USPS to your home.
Your order could be packed, palletized and shipped freight to your home.
In-Store Pick Up
If you live near Lancaster, or simply want an excuse to visit, you can save on shipping costs by picking up your order at either our Intercourse, PA or Strasburg, PA location. When you place your order, make sure to select which store you'd like to pick up your furniture. As soon as your order is built and at the store, you will be notified that your furniture is ready for pick up. When you pick up your furniture our staff will be more than glad to assist in loading. As an added layer of protection, we can wrap your furniture in plastic wrap when you pick up. We do recommend bringing plenty of blankets/padding to help protect your new furniture while transporting it home.
Common Carrier
We work with common carriers that specialize in transporting furniture to PA, NY, NJ, DE, MD, CT, RI, MA, NH, VT, ME and parts of WV & VA. Unless specified otherwise your furniture is dropped off curbside. Delivery time frame varies depending on the area that you live. Common carrier delivery prices need to be quoted individually, please contact us at sales@peacefulvalleyfurniture.com or 717-768-0216 for more information.
UPS/USPS
Our shipping department takes great care in packaging your order exceptionally well. As a result of the amount of time involved with packaging each item, it can take 1-3 weeks for the packaging process if the item you order is not a Quick Ship item. As soon as your order ships, you will receive a tracking number via email. Shipments that have a retail dollar value over $100 will require an adult signature upon delivery.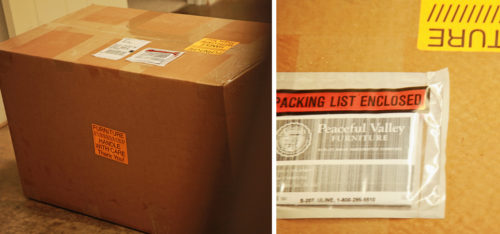 Freight
Many of our items are too large to ship via UPS or USPS. Our shipping department will package your order and palletize it. Once your order is packed, it will be shipped using one of several national freight companies. When your order is shipped, you will receive a tracking number.